Things to Do on the Ranch and in the area!
Ranch Activities
The secluded cabins at the Hideaway Ranch offer you the opportunity to relax, unwind, and connect with nature.
If doing nothing on your back porch is not enough, you can choose something from the following list: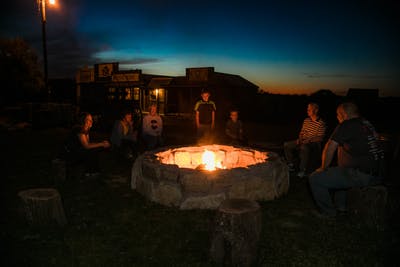 * go fishing * hike a trail (see property map)
* hunt fossils * animal watching
* swim in our pool * play horseshoes
* bird watching * visit the Silver Dollar Lodge (rec room)

At the end of the day after you're finished with your adventures, you can grill a steak on your own grill, have a campfire in our old west town of "Buffalo Gulch," curl up and read a book, or watch an amazing sunset. The options are limitless.
We have provided lists of some of our favorite restaurants, wineries and breweries and things to do and see around Glen Rose, Granbury, and the North Texas Hill Country.
Get more details and directions by clicking the links below.
Ranch Tours
Do you want to see the entire ranch in style? Do you want to learn a little about wildlife, or the local History? This guided ranch tour is perfect for you! We tour the ranch in one of our 4wd utility vehicles. The Refuge has over 4 miles of trails that YOU will drive, with stops to enjoy the scenery, the wildlife, and to talk about some of the local history. The tour begins an hour before sunset and ends in Buffalo Gulch, where you can relax on "Sunset Deck" or sit by the campfire! This is a fantastic way for you and your group to experience all that the refuge has to offer!
For an additional fee, a Deluxe Package with a bottle of locally produced wine and a charcuterie board with fruits assorted products can be waiting for you and your partner on Sunset Deck. This is a great way to unwind and enjoy the rest of the evening!
Sunset Tours are offered on Saturday evenings. Limited availability, and must be reserved in advance.
Tour Price - $40 adult, $25 child under 12, children under 3 are free
Deluxe Package - $60
---